Is there a place for benefits advisors in Amazon & Co.'s health care model?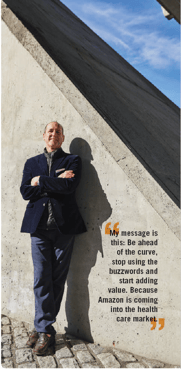 Originally published in Benefits Pro Magazine, March 2019 issue.
First it was books. Next came music, followed quickly by technology, clothing, furniture and all things e-commerce. After that, it was TV and movie streaming, e-readers and artificial intelligence. Over the past 25 years, Amazon's process for expanding its empire has proven successful time and again: Dominate or exit. In most cases, domination won.
Now, Amazon has set its sights on yet another market: health care. With partners Berkshire Hathaway and JP Morgan, the company has already taken significant steps in that direction. As a result, brokers who want to survive "had better wake up," says Michael "Mick" Rodgers.
"When people ask me, 'Are they aiming for brokers?'" he says, "I explain that if Uber had aimed at General Motors, Ford and Chrysler, the taxi drivers would have just been collateral damage.
"Advisors will be affected, but that's not who Amazon is aiming for. They're aiming much higher. And because of that, advisors have an opportunity to get on board."
Rodgers, managing partner with Axial Benefits Group in Boston, has a frontrow seat for the show that's about to unfold after he was approached by the joint venture to serve as a consultant. He believes the trio will forever change the health care, insurance and benefits advisor industries.
If you would like to read the full article, please click below: